2019 The Philadelphia Orchestra 2019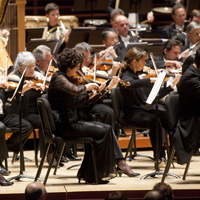 This event has already taken place. Learn more about upcoming events at longwoodgardens.org.
Led by assistant conductor Kensho Watanabe, The Philadelphia Orchestra celebrates its legacy of imagination, innovation, and excellence with an evening of music by American composers and Beethoven. Beginning with Michael Daugherty's
Flamingo
, a wild and fun concerto for two tambourines, the orchestra relaxes with George Gershwin's charming
Lullaby for String Quartet
before racing to intermission with Morton Gould's
American Symphonette No. 2
. Concluding the program is Beethoven's masterpiece
Symphony No. 1
.