Abigail Washburn & Wu Fei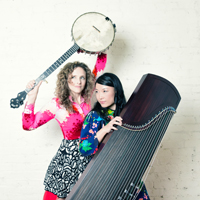 This event has already taken place. Learn more about upcoming events at longwoodgardens.org.
An entirely unique banjo-guzheng duo bonded by their bicultural sisterhood, Grammy Award-winning artist Abigail Washburn and zither master Wu Fei sing and perform original compositions inspired by weaving together Appalachian and Chinese folk songs.