ETHEL & Robert Mirabal: The River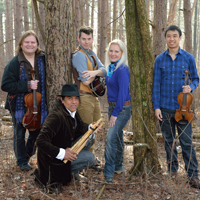 This event has already taken place. Learn more about upcoming events at longwoodgardens.org.
The ETHEL string quartet and Grammy Award-winning instrumentalist Robert Mirabal collaborate in this cross-cultural concert experience of instrumental virtuosity, song, and storytelling. Inspired by water as the embodiment of spirit and its essential role in life on Earth, ETHEL and Mirabal create an immersive flow of music, narrative, and ritual that evoke timeless Native American traditions through contemporary musical artistry.