Wine & Jazz Festival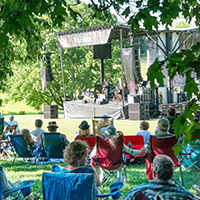 Due to inclement weather forecast, this event was cancelled. Learn more about upcoming events at longwoodgardens.org.
Due to tomorrow's inclement weather forecast and in the interest of safety for our guests, the Saturday, June 2 Wine & Jazz Festival is cancelled.
Tickeholders: please be sure to let all members of your ticket party know about this update.
Ticketholders will be issued a refund for the Wine & Jazz Festival. Your credit card or bank statements should reflect a refund within the next 5 to 7 business days. If you purchased a ticket with cash, you will be sent a refund by check.
We hope to reschedule our Wine & Jazz Festival for a later date this fall. We apologize for any inconvenience.