Sérgio & Odair Assad with Avi Avital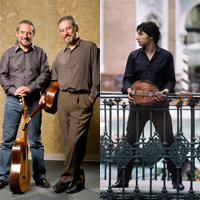 This event has already taken place. Learn more about upcoming events at longwoodgardens.org.
Brazilian brothers and classical guitarists Sérgio and Odair Assad perform with Israeli mandolin player Avi Avital. The trio explore both classical repertoire reimagined for guitar and mandolin, as well as traditional choro music, a popular genre in Brazil known for its upbeat rhythms and bravura virtuosity, in an exciting musical collaboration.
A coffee reception and opportunity to meet the artists follows the performance.