Fireworks & Fountains 2017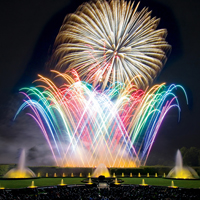 Our Fireworks & Fountains Shows return with astonishing awe on six special evenings.
Ticketing Options
Lawn Seating: Bring your own chair to the show. Chairs may be set up beginning at 5:30 pm. Line forms at 4:30 pm.
New Reserved Seating: No need to bring your chair or wait in line. Reserved seating allows you to select your seat for the show, then arrive to your chair already placed and waiting for you. Limited reserved seating remains for select shows.
Special ticket required. Sell out likely. Fireworks & Fountains tickets provide all-day admission to the Gardens.