Dreamers' Circus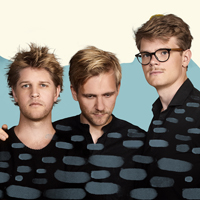 Contemporary and endlessly innovative in their approach, Dreamers' Circus is a driving force in Nordic world music. Fresh off their fifth album Blue White Gold (2020), awarded Album of the Year by the Danish Music Awards, this young Danish trio of Nikolaj Busk on piano and accordion; Ale Carr on Nordic cittern; and Rune Tonsgaard Sørensen, also of the Danish String Quartet, on violin draws inspiration from the deep traditions of regional folk music and reshapes them into something bright, shiny, and new.

Beginning January 23, masks and proof of vaccination (government issued card, a photocopy or photograph of the government issued card, or a vaccine verification app) or a negative COVID-19 test result (within 48 hours of the show date) are required for all indoor performance ticketholders. Ensure you bring the required documentation with you as we will not make any exceptions. After we scan your concert ticket, we will check your vaccination card or negative test result and issue your event wristband allowing you admittance to the venue. Masks are not required throughout the Gardens, only in the concert venue and for the duration of the performance.

Please note, per Pennsylvania's lifting of pandemic restrictions, indoor concerts will be at full capacity and social distancing will not be in place.