Joey Alexander Trio and Time for Three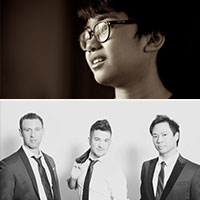 This event has already taken place. Learn more about upcoming events at longwoodgardens.org.
Experience the extraordinary talents of 12-year-old jazz prodigy Joey Alexander, who recently received a standing ovation at the 58th Annual Grammy Awards. His highly anticipated debut album
My Favorite Things
(2015) was nominated for two Grammy Awards. He and his trio will showcase many favorites from this debut album, where audiences will hear him perform classic tunes from Coltrane to Rodgers & Hammerstein with a deft touch, adventurous spirit, and improvisatory verve.
This performance also features the exciting opening act, Time for Three—a melody-rich string trio of graduates from Philadelphia's Curtis Institute of Music. The group's expansive repertoire encompasses classical works, pop covers, bluegrass, jazz and more….and their YouTube video "Stronger" was featured on CNN and the
Huffington Post
.